The status of the Manzanita Single Family Residence market has gone from a Sellers Market back to a Balanced Market and is trending toward a Buyers Market. There are a lot of reasons for this and we have prepared a detailed summary for you.
Below we see a chart of the Number of Listings in Manzanita for the last year through May 15th of this year.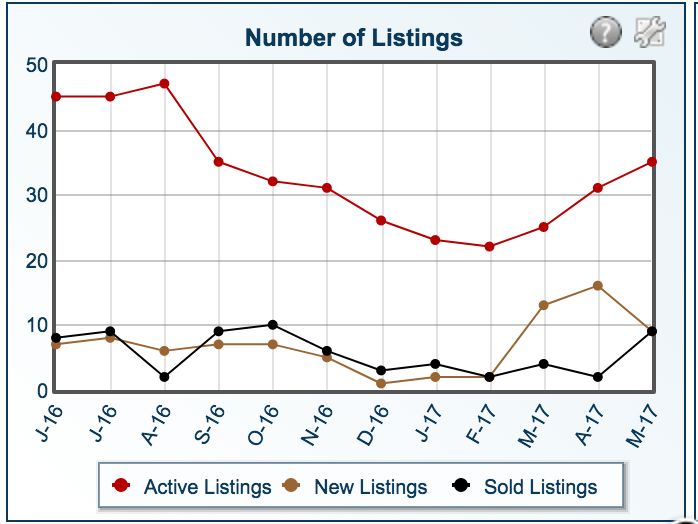 As is typical, we see a large spring push to list driving the change from Sellers to a Balanced market which we define as a 6 month inventory.
Below is a chart of the single family home Absorption Rate.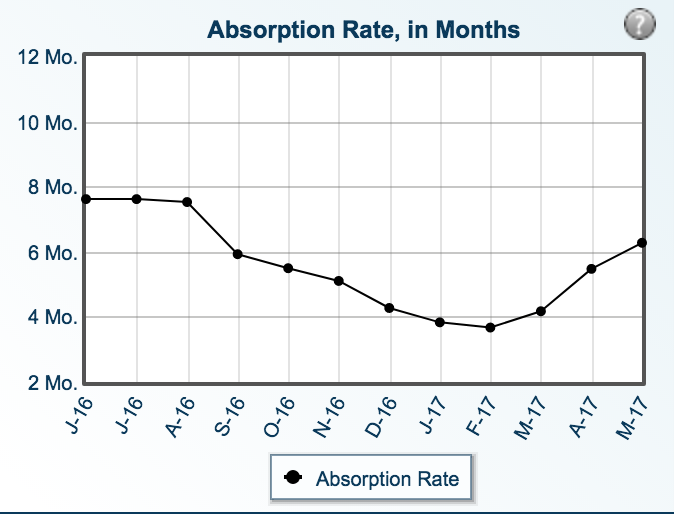 The Absorption Rate chart shows how long the current inventory of properties would last at the current rate of sales.
If no new properties were added to the market, and sales continued at a steady pace, the Absorption rate indicates the number of months required to sell all the properties on the market.
Absorption rate is based on two numbers:

The number of active listings
The average number of listings sold per month for the previous 12 months.
The number of active listings is a "snapshot" of listings active on a single day (the 15th of the month). The number of months of sold listings, here, is 12.

The Absorption rate is -23.15% YTD.
The average List Price YTD is up 12.44% while the average listing price in the month of May 2016 vs May 2017 is up a whopping 19.69%.
The logical explanation for this, is the expectation of sellers rushing to market in late spring in unison with great expectations.
Which brings us to the Sold to List Ratio.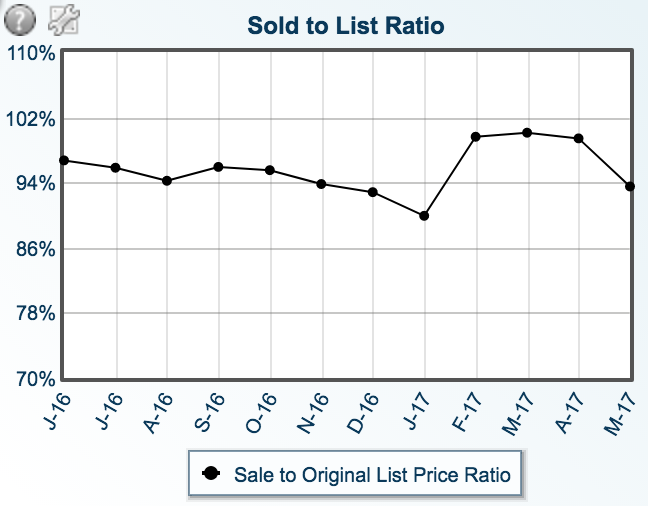 The Sold to List Ratio chart displays the average ratio of sale price to original list price, in percentage.This ratio shows how the sale prices of properties compare to their original list prices.

Numbers below 100% indicate that, on average, properties sold for less than their original list prices. Numbers above 100% indicate that, on average, properties sold for more.
The ratio is calculated by dividing the sale price by the original list price.
Sale Price ÷ Original List Price
Meadow and I have over the last three years maintained an average of 98% of list on single family homes. We are always well above the community average. And we continue to do so in spite of the sharply falling trend which is currently at 93.5%
As you can see in the graph above, the spring rush to market and and huge increase in seller list price expectations is driving the sold to list ratio sharply downward coming into summer as buyers consider the new bump in inventory and what they are willing to pay.
This trend is further illustrated by Average Days on the Market. YTD is up from 166 days to 191 days or a 15.06% increase in ADOM.
What is the average sales price? As you may have guessed and as we noted several months ago in an earlier blog post, most of the buying pressure is on the mid and lower priced portion of the market.
The average closing price of a single family home is sharply down. The YTD average sales price is -17.37% as buyers have zeroed in on lower end properties. The current YTD average sales price is $358,121 down from $433,384.

Data Summary:

Listings over 500K have increased sharply. YTD +26%
Listings under 500K are down sharply. YTD -53%
Average list price is sharply up. YTD +12.24%
Median list price is sharply up. YTD +13.24%
The days on the market are sharply up. YTD +15.06%
Absorption rate is very sharply down. YTD -23.15%
Average Sales price is down. YTD -17.37%
Average Median Sale price is down. YTD -6.29%
Sold to list ratio is falling off quickly and is currently at 93.5%.
It is safe to conclude that sellers were slow to react to listing during the sellers market in town which began to show in October 2016 and was a clear trend by December.
With the rush to bring homes to market in late spring for summer, and expectations that the sellers market would continue, listing prices rose wildly. The ADOM rose predictably sharply in response. And the List to Sold price ratio has also predictably fallen sharply.
How to best react if you are selling your home?
1. Work with a Team that has a history of a maintaining a high Sold to List Ratio.
2. Work with a Team that follows and understand the data so that you do not end up with a stale listing that inevitably results in a disappointing Sales Price.
3. Work with a Team that uses technology to your advantage. i.e. social media, videos, aerial photography, professional interior photography and the like.
For more information on the local market, and how we can assist you in selling your property, please give us a call.
Corey